Home > Anniversary News >
< Photographic portrait exhibition of Nobel laureates
Opening of the exhibition of Nobel Laureate Portraits photographed by Peter Badge
50 remarkable portraits of Nobel Laureates photographed by Peter Badge are on display from 24 May until 13 June 2014 at the Hôtel de Ville , salle Conrath, 9 rue Brûlée in Strasbourg.
The opening of the exhibition, held on Friday 23 May at 17.00, was introduced by Martin Hynes, Chief Executive of the European Science Foundation & Nikolaus Turner, Managing Director and Member of the Executive Board of the Lindau Nobel Laureate Meetings, in the presence of Peter Badge, the photographer, Alain Beretz, President of the University of Strasbourg & President of the League of European Research Universities (LERU), and Martin Karplus, Nobel Prize laureate in chemistry 2013 whose black & white photograph is featured amongst the 57 photos on display.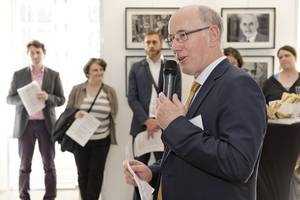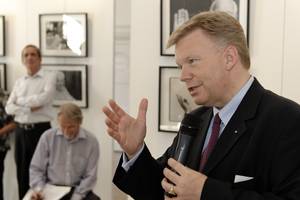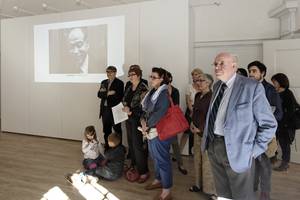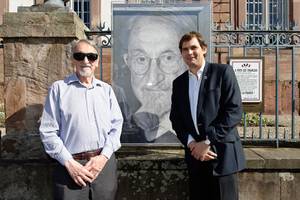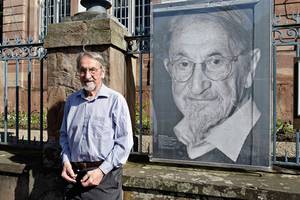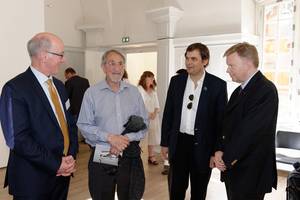 The ceremony was followed by refreshments & snacks while guests could admire Peter Badge's work.
---------------------------------------------------------------------------------------------
The exhibition which includes over 50 black and white photographs from the collection is on view at the Hôtel de Ville, salle Conrath, 9 rue Brûlée, Strasbourg, from 24 May to 13 June 2014.

Admission and opening times: Free, open daily 11.00–19.00 except on Sundays & public holidays. Please note that the exhibition will be closed on Thursday 29 May (Ascension Day) & 9 June 2014 (Whit Monday).